© 2022 British Car Club of Charleston. All Rights Reserved.
Email me directly at Dave@BritishCarClubCharleston.com or use the form below to let me know if you are interested. We need to make reservations soon so contact me ASAP.
Blue Ridge Mountains Drive
5 days, 4 nights
September 29th to October 3rd
We have 12 cars, 20 people so far, join us!

We will have beautiful drives through the Blue Ridge Mountains. These are the kind of roads our LBC's were designed for! You don't have to drive your LBC or even a car (motorcycles are fine). Contact Dave if you want to come!


I will be driving my MGA, 77hp. This drive will not be a race. I like driving briskly, not fast. We will stop at overlooks, water falls and anything else that looks appealing. We will use the club walkie-talkies to keep in touch with each other.
Drive to Little Switzerland via The Blue Ridge Parkway returning on the Diamondback

Lunch will be on the terrace at Little Switzerland Inn.
Day

Time/distance

Time/distance for the day

Sept 29

Charleston to Mill Spring, NC

Emberglow Outdoor Resort

5 hours, 30 min, 260 miles

Sept 30

Drive to Little Switzerland, includes The Diamondback, shown below

1 hour 15 minutes each way, 53 miles

2 hours, 30 minutes, 110 miles

Oct 1

Visit wineries

Oct 2

Drive around lake Lure (see below)

Oct 3

Mill Spring, NC to Charleston

5 hours, 30 min, 260 miles

Total miles
Lodging


We will be staying at Emberglow Outdoor Resort.


Emberglow Outdoors Resort has Yurts, Tiny homes, Vintage Airstreams, tree houses and Pods. ($110 to $185/night)
We get a 10% discount!
The times assume taking back roads, even to and from Charleston. If we took Route 26, to and from Charleston, the drive would be about 4 hours, not 5.5. Most of Rt 26 is 70mph which is pushing my little A, but it can be done. So this is an option.
Visit wineries

The map to the right shows 12 excellent wineries all within 45 minutes of Emberglow.

Our favorites are Point Lookout Vineyards and Parker-Binn Vineyard. Emberglow is just to the right of Lake Lure.
Visit Breweries

The map to the right shows a small representation of the breweries in the area. Most are in and around Asheville, which is about 50 minutes from Emberglow.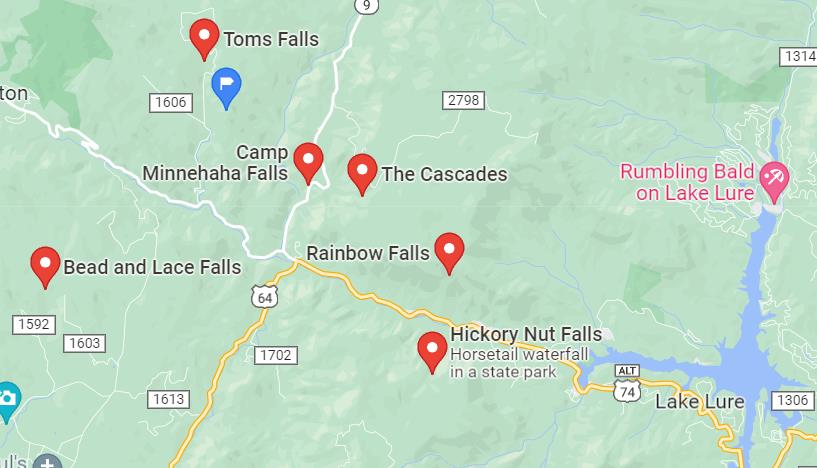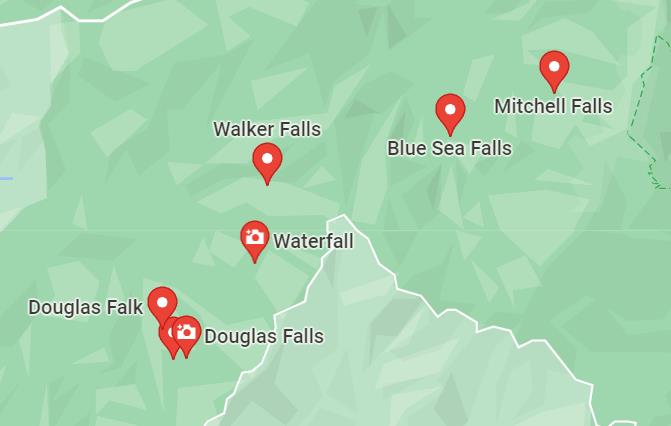 Visit waterfalls

The top map to the right shows waterfalls within 45 minutes of Emberglow.
The waterfalls shown to the right are about an hour and a half drive from Emberglow.
Other possibilities
Boating tour of Lake Lure, where Dirty Dancing was filmed.

Go up Chimney Rock

Rent a pontoon boat for the day ($700/day)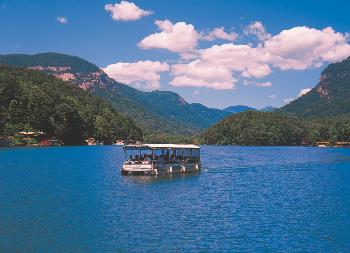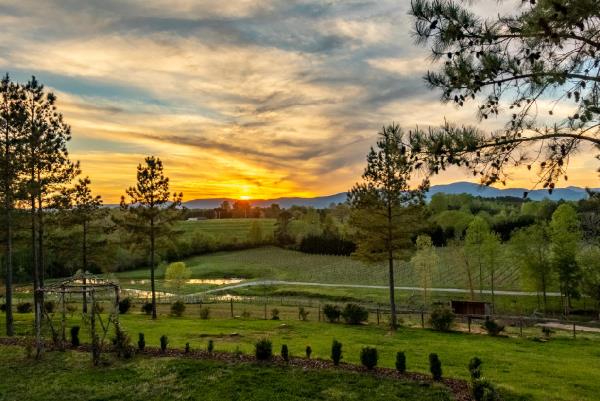 Visit apple orchards

All of these apple orchards are within 30 miles of Emberglow. September and October is apple season. We could pick apples or enjoy some hot cider.

Grandad's Apples has the best Aple Cider donuts! Bold Rock in Mills River has great hard ciders.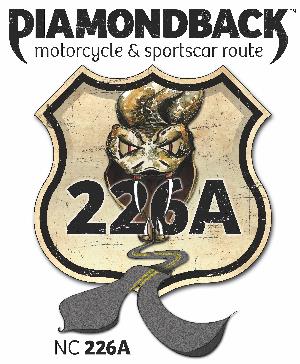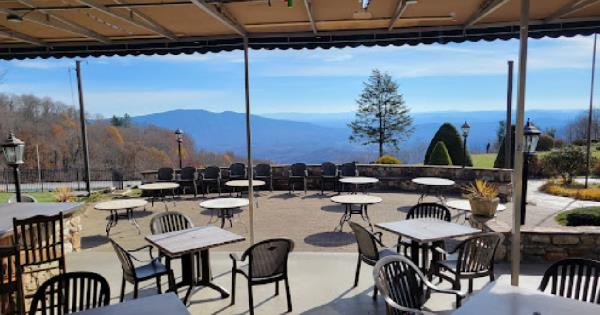 Afternoon drive around Lake Lure

Here is a drive we can take around Lake Lure. It is full of winding tree covered roads and mountain hills. If it is open, we can check out Wormy's Last Call. The end of the loop goes through Bat Cave and Chimney Rock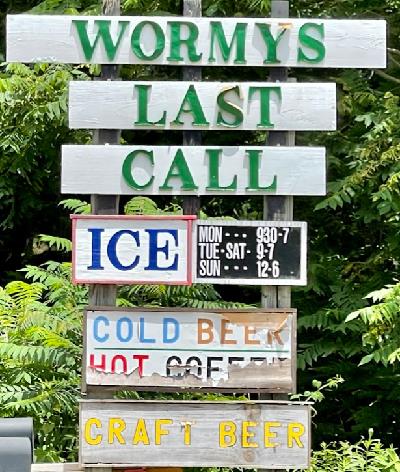 Right down from Wormy's was a British Panther