BCCC Tech Sessions







© 2021 British Car Club of Charleston. All Rights Reserved.
This includes complete system flushing with new DOT 4 brake fluid added. The clutch is adjusted and a little tutorial is given on how the clutch works.

Recorded on 12/10/2020
Thanks to Irene Breland, Millie Horton, Lynn Rosato and Dave Rosato.
This page has been visited 88 times!
Jane Schmitt was having problems shifting into gears in her AH. After back and forth discussions with Darryl Beech of Charleston Import Automotive, we determined that it was either the master cylinder or the clutch disc. If it was the master cylinder then occasionally it was not disengaging the clutch, making it impossible to shift. Since the problem was intermittent, I tied a string to the clutch slave cylinder lever and ran it into the car through the gear shift boot. I connected the end to a bungie cord. This way I can see if the slave cylinder was enganging when I depressed the clutch as I was driving. The first couple of times driving, the problem never happened and the string went in and out properly when I pressed the clutch.

But one morning I started the car and couldn't put it in any gear when the engine was running and the clutch pressed to the floor. The string showed that the slave cylinder was actuated properly. I next shut the engine off, put it in reverse and tried to start the car with the clutch to the floor. The car moved backwards, being driven by the starter. It was now clear that there was a clutch disc problem.

To replace the clutch disc, the transmission needed to be removed. In the AH 3000, the transmission is removed from inside the car. There are non-removalable support brackets under the transmission making it impossible to remove it from under the car. So we first removed the interior from the car, seats, carpeting and fiberglass transmission schroud.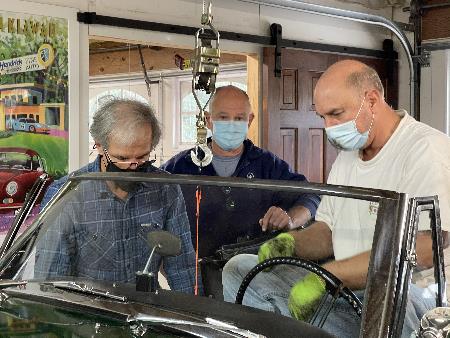 Dennis at the front controlling the floor jack supporting the transmission from underneath. A come-along attached to the roof rafters lifted the transmission from the top.
When looking in the bell housing, we found several pieces of metal at the bottom. Time to remove the clutch/pressure plate from the flywheel, still on the engine.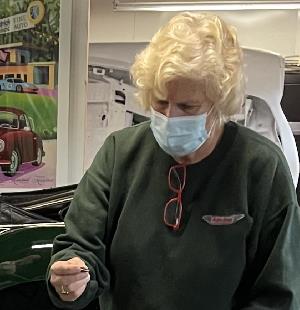 What is this doing in my transmission?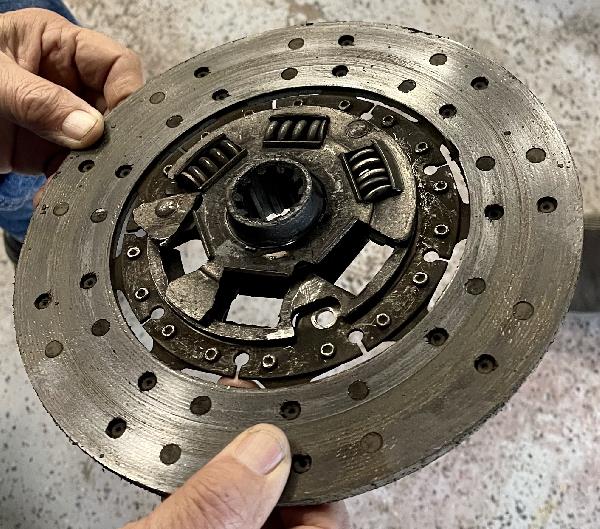 Wow, it was amazing that it was possible to still drive the car with the clutch disc in this condition. The three missing springs and many metal pieces were rattling around under the pressure plate fingers. They sometimes prevented the fingers to move, preventing the clutch to release.
The pressure plate was scorn.
A job well done, time for pizza!
Transmission removal from a 1966 Austin Healey 3000 BJ8
1/22/2021
Brake and clutch fluid replacement on Irene Breland's 1967 TR4a.
12/10/2020
---
---